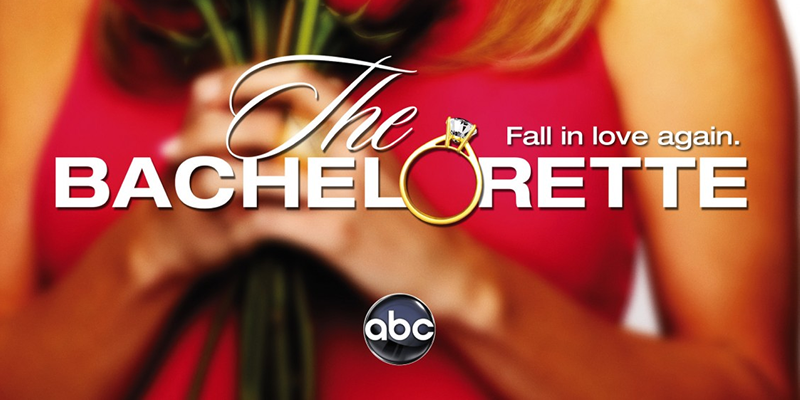 H…hello? Is anybody out there? There's no way to know if you're receiving this, but I've got to try god dammit. We've been posting new content night and day, non-stop for the past two weeks, hoping to contact the outside world. We've been thwarted at every turn, but I believe I've discovered a loophole. The FCC's new policies regarding net neutrality have blocked anything that isn't an ad for The Bachelorette from being served by most ISPs, but if at least 20% of the text or imagery on the page is approved by the Comcast/NBC/ABC/Mott's/Gushers business juggernaut, it can slip through the filters.
MONDAYS AT 9! CAN ONE HOT MAMA FIND LOVE LIVING IN HER SON'S FRATHOUSE? THIS SEASON ON THE BACHELORETTE: DOWN 'N' DIRTY!
We've tried everything to keep our bandwidth from being throttled back to nothing, but there's really no other options for us at this point. If you're out there, please consider contacting your representative and demanding A) a free and neutral internet or, failing that, B) The Bachelorette be regulated as stringently as other gang bang pornography is.
Alternatively, the de-regulation of gang bang pornography would also be acceptable to us.
THIS SEASON ON BACHELORETTE: ROAD RULES - CAN THIS 90-YEAR-OLD SILVER FOX MEET THE MAN OF HER DREAMS ON A GREYHOUND BUS WHERE ALL THE FOOD AND WATER IS SPIKED WITH LOW-DOSE VIAGRA? TUNE IN!
If there's anybody out there, we need your help. We have wounded, and our supplies are running low. We need to be evacuated as soon as possible, and without food, water and medical supplies we won't last more than a few days.
THURSDAYS JUST GOT A WHOLE LOT STEAMIER! 32 ELIGIBLE YOUNG DEVIANTS, AND ONE BOVINE BEAUTY. IS LOVE IN THE AIR, OR IS THAT JUST THE MANURE!? FIND OUT ON A BRAND NEW SEASON OF BARNYARD BACHELORETTE: IT'S TECHNICALLY LEGAL IN THIS STATE!
The WNV Corporation, while extravagantly wealthy from our advertising money, is unable to compete with such ubiquitous sites as Huffington Post and BacheloretteFanForums.com, and as such the once mighty river of bits in and out of our offices has dried up to a scant trickle. We have received no confirmation that the outside world still exists, and no matter how many times we try to refresh the Dominos website, we still have no means to end our starvation.
To anyone who might still be out there to find this message in a bottle, if you are unable to send help then please, just remember one thing:
THINGS ARE GETTING HOT, HOT, HOT AT THE TRANSGENDER BACHELOR(ETTE) MANSION! WHO'S GOT WHAT GOING ON DOWNSTAIRS? I'M PRETTY SURE NOBODY EVEN FUCKING KNOWS; I SURE AS SHIT DON'T! I'LL TELL YOU ONE THING THOUGH: I'M INTO IT!